– charter services with years of experience
Are you looking for a charter bus transportation in Finland? Korsisaari is a reliable Finnish family owned company which has years of experience on different kinds of charter bus transportation services. Tell us your trip details and our sales team will make an offer to you. We have a versatile selection of vehicles at your disposal and for that reason we are able to organize transportations anywhere from one person up to large groups of people. We have multiple vehicles from 8-seater minivans up to 67- seater maxi buses. Some of our minivans and buses are equipped with wheelchair lifts. These vehicles with lifts are an optimal option for those situations where you need a barrier free transportation. You can also order a specially sanitized Hygieia-taxi from us. Get to know better our charter bus and taxi vehicles.
When charter bus is the best option?
You are organizing an event in which people need to be transported from one place to another
You are organizing a party or meeting and you want a group transportation to your guests
You have business meeting coming, guest arriving from aboard or state visitors arriving to Finland
You have a group member or members that need a barrier free transportation
You want to organize a meeting while travelling to your destination
You want to organize airport transportations to your guests or business partners
You want to organize tours around cities and see all the main attractions easily and without changing from one bus to another
Shuttle transportations to mass events organized by you or your company
Other mass event transportations for VIP guest, artists etc.
Cleanness of the vehicles and education of drivers in charter bus service
For us it is really important that all our charter buses and taxis are clean and safe. Our main goal is to offer and guarantee the high-quality service and safety to our customers. The vehicles are always cleaned inside and outside before the charter service begins to make sure that our passengers have a pleasant and comfortable ride. The vehicles are also checked, repaired and maintained in our own maintenance garage. All our charter bus drivers have professional competence and the drivers are educated yearly with different kinds of courses related to safety, directives and customer service.
All charter bus drivers have at least D-driver's license
Charter bus drivers have professional qualification of their profession and it is kept up to date with regular training
At least once a year the drivers attend to directive training of European Union
With tracking devices, we are able to follow where all our charter vehicles are located and how stably, smoothly and economically the driver drives the charter bus
Training in customer service and in emergency situations
Personalized and specialized training with experienced drivers before starting as a charter bus driver
Great variety in spoken languages among the drivers. When you send us an offer let us know if you have any wishes regarding the language skills of the driver.
What is included to the charter bus offer received?
Staff with professional competence and years of experience on route planning and organizing a timetable for your transfers
Regularly maintained and cleaned charter bus, minibus or minivan
Professional driver which can be recognized easily from a uniform and has a sign with them
Customer service 24/7 for changes and additional needs
Through us you can also reserve and book tickets for attractions, events and museums, book guides for the selected destinations and sightseeing tours, make reservations to the restaurants or theater shows and order a catering service during your charter ride as we have ready-made travel packages available or we can tailor you an offer according to your special needs. You get everything you need from one place!
Contact our sales team!
+358 9 8789 9050 / sales@korsisaari.fi
Service time Mon-Friday from 8am to 3pm.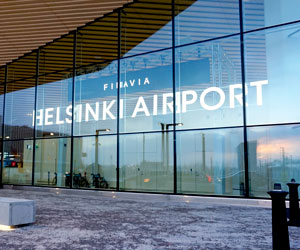 Airport transportations –
Reserve an airport transportation for your group! Charter buses will wait for your group in specialized charter bus spot in the bus terminal which is located in arrivals Terminal in Helsinki-Vantaa airport. If wanted the driver can come to the lobby with a specialized sign. Easy and serene transportation from the airport to your destination!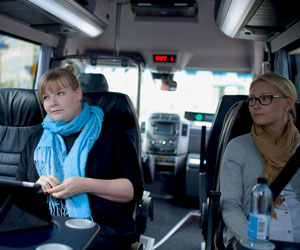 Tours and school trips –
Reserve a charter bus for your sightseeing tour or school trip! What a fun way to travel around the city with a charter bus and see all the main attractions. Through us you can also book tickets to the attractions you want to visit and professional guides to your tours.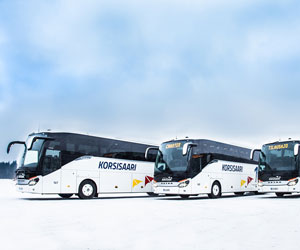 Transfers –
Need to travel from one place to another? Reserve a charter bus from us and get you or your guests easily and according to your schedule from one place to another. Ask an offer from our sales team!
Customer service center and contact information
You can contact us whenever needed. Our customer service center is open 24/7 h and helps you by phone if you have any questions or you need to make rapid changes to your charter bus reservation or other transfers. You will receive a phone number to contact ones the reservation has been made. We offer our customer service in Finnish and in English.
If the person you are trying to contact is not available our customer service employees will reserve a callback for the same or following day. If you have any special wishes about the language skills of the driver please let us know and we will do our best to organize you a driver that speaks the preferred language.
You can also contact us by email sales@korsisaari.fi The email is read from Mon-Fri 8am-3pm.
Our customer service number is +358 9 8789 9050 and it works from Mon-Fri 8am-3pm.
Do you have a large group of people with many transfers and you want to talk about the details more?
Contact our sales team and ask for a personal meeting with the team. We can meet face to face or through a Zoom meeting. Just message our sales team and we will arrange a meeting for you! Our sales team is also happy to help you with routing and timing so that your charter bus transfers go smoothly according to the plans and without a rush.
Customer service and its quality is one of our main values and goals. We always want to improve our services so we appreciate all the feedback we get. Please give us feedback by email feedback@korsisaari.fi or through the feedback form.
Our main values are high-quality customer service, safety and environmental issues. For this reason, we have been certified with ISO9001:2015 and ISO14001:2015. ISO9001 is a quality standard based on active focus on customer service, management and continual improvement of the business. ISO14001 is an environmental standard for environmental sustainability. Get to know better our certificates and how we make sure these standards are followed and fulfilled.
Pricing of the charter bus transportations
Our pricing is based on driven kilometers, workhours of the driver, time of the day, size of the charter bus and VAT which is 10% in customer transportations. Korsisaari follows the collective labor agreement (TES) settled by Transport Workers Union AKT. The salary of the charter bus drivers and their maximum working and driving hours per day are determined by this collective labor agreement and us in Korsisaari follow these regulations. What this means from customer point of view is that the driver can be working for maximum 14h per day so this is good to take into account when you are planning a travel program to your group or guests. The customers don't have to worry about the maximum working hours or breaks needed as our sales team makes sure that they are followed. Sales team also happily helps you with the planning and will answer any questions you have regarding the maximum driving hours or collective labor agreement.
The collective labor agreement is updated regularly by the AKT to ensure improved terms of work and pay, developed occupational health and safety and the training level of all workers. More detailed information about the agreement can be found from AKT's webpage.
As Finland is part of the European Union all services and goods offered here include VAT and the customer has to pay it. In transportation services the VAT is 10% when happening inside Finland. When talking about transfer services also the citizens of the countries outside EU have to pay the taxes as the service happens inside EU. So, the rule regarding the exportation of goods doesn't apply here. More about the VAT rules and rates can be read from EU's webpage.